Mike Dowle
BA VetMB MRCVS
Mike qualified from Cambridge in 1987 and worked in this practice for the first two years of his veterinary career. After working in mixed practice in South Wales and the South West he was lucky enough to return here in 2003.
He enjoys the mix of different species that he gets to deal with on a weekly basis and loves the area.
Sue Little
MAVetMB MRCVS
Sue wanted to be a vet from a young age because she loved animals. She was told that wasn't a good reason to apply to veterinary school but nevertheless she got into Cambridge University and in due course qualified. She has now been a vet for many years and joined Drybridge Veterinary Clinic quite a long time ago, working on the small animal side of the practice. Sue likes the variety in the cases she sees, enjoys the management of long term medical conditions and enjoys surgery. She still loves animals and thinks it is one of the best reasons for being a vet.
Jenny Powell
BVM&S MRCVS
Jenny qualified from Edinburgh in 2014 and began work with us to pursue her career in mixed veterinary practice. Jenny has a keen interest in all livestock and also small animal orthopaedic surgery.
She enjoys riding her horse Flicka and tending to her small flock of Cotswold sheep. Jenny lives with her husband in Orcop with their little black cat Duchess.
Claire Wardall
RVN
Claire qualified in 2005 working at a busy practice in Cheltenham. She joined Drybridge in 2014 and has since been promoted to Head Nurse.
Claire lives in the Forest of Dean with her husband, their 2 cats, 4 chickens and mad Springer Alfie. They have been busy building an extension and doing up their home but when not helping with the DIY Claire enjoys Irish dancing and is involved in teaching the younger members of the club and organising their annual show.
Jo Williams
RVN
Jo has worked for many years as an experienced RVN at Drybridge, after completing her training here. She is our expert equine nurse, and also farm nurse when required!
Jo lives with her husband and son in Trelleck, not to mention a household of dogs and a stable full of horses. Jo loves to spend time with her family and apart from snuggling whippets, in her spare time Jo competes at horse shows most weekends with her stunning stallion Casper. They have qualified for Horse of the Year Show the last 4 years, of which Jo is immensely proud.
Sharon Powell
RVN
Sharon has been working as a veterinary nurse for over 25 years, qualifying after having a family, and has worked at Drybridge since 2011.
Sharon is the mother of 3 boys, recently playing mother to a litter of kittens that she reared on the bottle. She kept one of the litter, aptly named 'Runty'. Sharon enjoys swimming, dancing and cycles when she can, even popping out on her lunchtime on nice days! She would love to have a dog but doesn't have the time just now.
Emma Warne
RVN
Emma qualified in 2004 as a registered veterinary nurse. She worked for many years in practice and running a cattery before joining the Drybridge team in 2016.
Emma lives in Staunton with her boyfriend and children. She has a menagerie of dogs, cats, rabbits, chickens, goats and geese to keep her busy! When she does have time Emma goes dancing and is very hands on with home improvements, doing all her own DIY.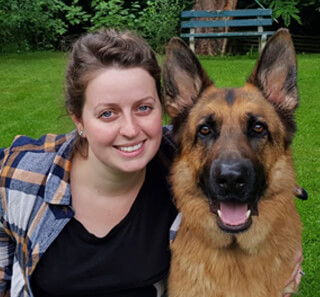 Becky Evans
Becky joined the practice as a receptionist in 2015 but started her veterinary nursing training in September 2018, which will keep her busy over the next 2 years.
Becky completed a degree in Psychology in Swansea before returning to Monmouth where she lives with her husband and their dog Bear.
In her spare time Becky enjoys visiting friends and family back in London and in Dorset and obviously spoiling Bear rotten!
Jan Morris
Jan is the longest standing member of the team, with over 20 years' experience in practice management.
She works hard behind the scenes to ensure the day to day smooth running of our busy clinic.
Jan communicates regularly with our farm clients to arrange routine visits such as Tb tests.
Sara Camp
Sara joined Drybridge as a receptionist many years ago. She loves all animals big and small and loves nothing more than kissing every animal that comes to the practice each day – a warm quality that clients enjoy.
Living in Broadstone with her husband and daughter, Sara loves spending as much time as possible with her family, her 2 dogs Poppy and Flo and cats Tigger and Miffy. She also enjoys going for dog walks, pottering in the garden and visiting friends.
Sally Sanders
Sally joined Drybridge as receptionist in 2016 after being a customer for many years.
Sally lives locally with her son, when he visits from university. She spends her spare time crafting, making anything from Christmas baubles to upcycling furniture.
Sandra Baker
Sandra has worked at the Coleford branch for many years, previously working at the chemist in town.
Sandra lives with her husband in Coleford and their 6 cats!  She enjoys spending time with her daughters and granddaughter and also plays darts.
Nicki Mizen
Nicki started in Coleford in 2017 having worked in a similar role at the chemist before.
Nicki lives in Lydney with her husband and their son and daughter. They have a cat called Scarlett and a gecko!
Nicki loves the outdoors so is happiest when out walking and enjoying the countryside.
Angela Follows
Angela is the newest member of the team, working as a receptionist in our Coleford surgery.
She lives locally with her husband and their 2 children.
Opening Hours
Monday – Friday
8.30am – 6.30pm
Saturday
9.00am – 1.00pm (Coleford CLOSED)
Sunday & Public Holidays
Closed